As you can tell I have not spent much time creating these blog posts recently.  As I said before I don't like to write.  I am a good typer a bad typist and more horribler Engliz person, heheh.
What have I been up too instead of creating blog posts here? Actually a lot.  I have just done a bad job of DOCUMENTING it.  So here we go.  I have created a new weekly flowshop for my new Facebook group, Flow of the Round.   This is my Contact Juggling, Sphereplay, Dynamic Object Manipulation style and philosophy in a flowshop(A flowshop is a workshop that is based on flow).  This is a weekly Facebook Live production using vMix.  The first 13 weeks I used vMix HD Basic and it was AWESOME.  I took the format and did my best to blow it up and out,  I had 4 crayons and I colored inside the lines and outside the lines till I had no wrappers left on the crayons.
The most recent FB Live show called 'The New New' has my new set up.  I have not fully exploited it yet.
I was lucky enough to go to Streaming Media West and I won a more advanced version of vMix and that is what has allowed me to jump up my production game.  I still want all the new techno gadgets like a new graphics card(NVidia 1080 would be amazing and even the 1050ti would work great), a new capture card(I only have 1 capture input right now), more lights, and of course BIGGER SCREENS. With that said, I don't need them I just want them.  I will take what I have and push it to 11 and see what I can create.  When this box of 64 crayons are all worn down I will be ready for the next level.
BIG THANKS TO MARTIN SINCLAIR AT vMix for making my box of crayons HUGE.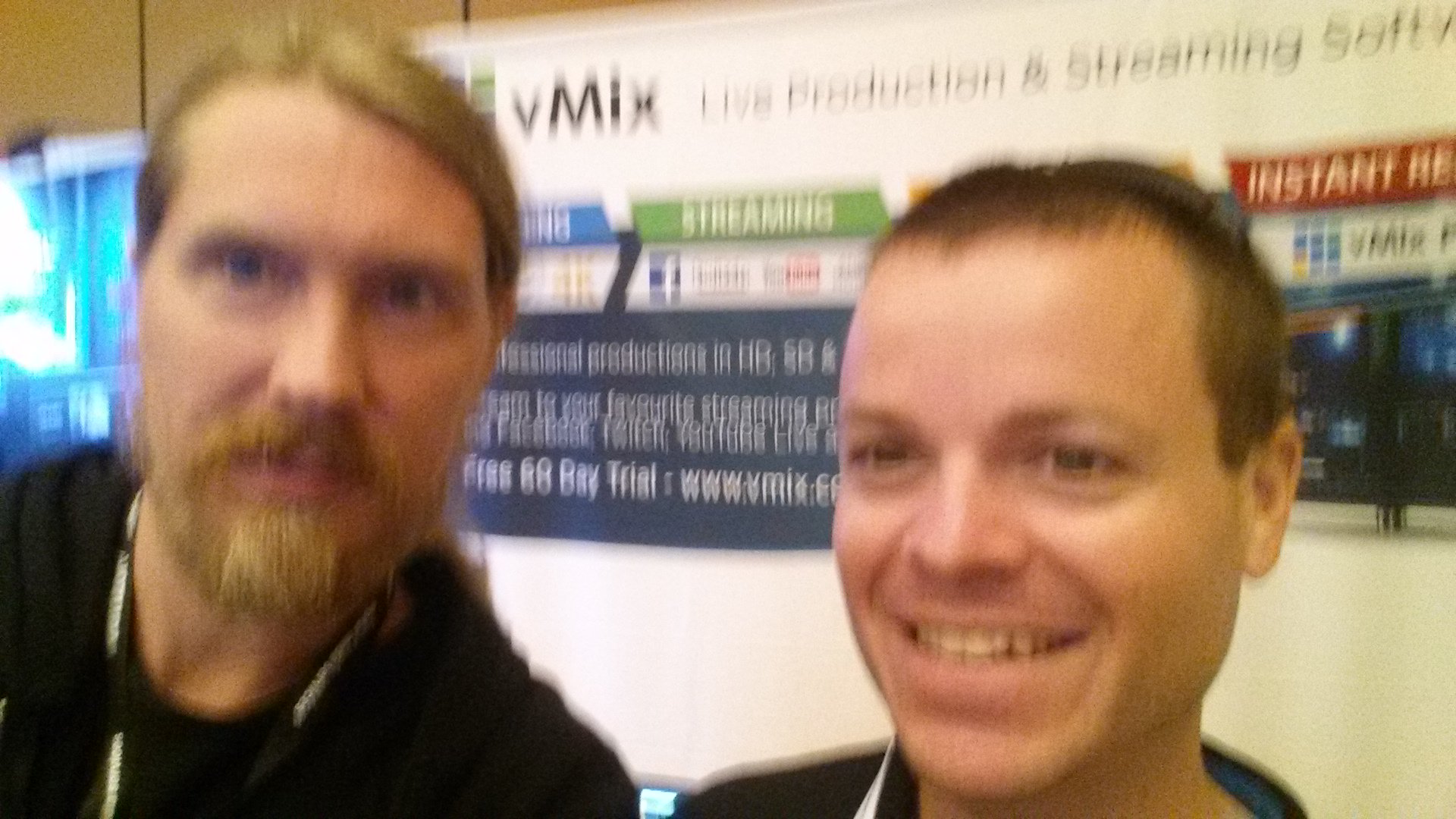 Since I have this new set up I will be starting a HUGE new project soon.  I don't want to tell you yet as it is not quite ready for prime time.  Hopefully when it comes out you will be just as excited as I am.
In addition to my FB Live flowshop I created a 'professional' page on FB.  I found out you can only have 5000 friends on Facebook, I am not there yet just planning for the future.  Instead of adding people I don't really know in the real world I decided to create a FAN page for myself, Rich Shumaker Flow Artist.  This way I can keep growing and expanding without limiting myself in the future.  If you are my friend on FB please sign up to my FAN page so you can get updates on what I am doing.
I have started sharing my writing  on Medium.  I find this a great way to post things to the world.  My most recent article is entitled 'You Quit' which discusses my last 9 to 5 employer and how it all ended.  It was really difficult for me to discuss this publicly and I was glad to have Medium to share it with the world.  As KJ my partner for life always says, 'It all happens for a reason' and I like to add 'even if you don't know why'.  This has been some of the truest words I have ever heard.
Which brings me to this site RSdC.  I am redesigning it to make it easier to find out about me, what I do, where I do it.  Ways to hire me, buy my stuff, and learn about all things in my world.  This blog will become more of a spot for updates.  The day to day will be handled with the tools that exist in the world.  I will tweet, instagram, musical.ly(if I can get music that is usable), post on my FB Pages, Medium, and of course do more YouTube.  Speaking of YouTube I am transitioning my editing software(wow I didn't even know I made an editing pun till after I wrote it) to a new one, this will be editing software #6.  I had several hard crashes in the middle of projects which stopped production completely.  My options are to bang my head in the wall more with my old software or get new software.  I am choosing new software.  Unfortunately this comes with learning curves and also new headaches.  Wish me luck on this one.
Oh and if you haven't noticed the title yet, heheh, it is 11 11 11 11 11.  In case you didn't figure it out on your own here is the secret.  Today is November 11th or 11 11.  Twice today the clock will read 11:11 and if you watch the second hand it will read 11:11:11.  Put those together and you get 11 11 11 11 11.  Oh and I usually try to celebrate 11 11 twice a day if I can.  I have an odd fascination with the maximum number of the same number you can get on a clock.  I know if I liked military time it would be 22 22 22.  Unfortunately there is no 22 22 month so 11 11 still wins that race, heheh.
Finally the thing I have been working the hardest on recently is Temet Nosce or Know Thyself.  The more I learn about me and how I tick the better I can turn that into AwesomeSauce for the world.  I hope to be able to document this journey to help myself and others that might want to Temet Nosce.
Drop me an email, text, leave a message here, or on any social media, I would love to hear from you.
Have an amazing 11 11 everyone.  Be Awesome, Make Awesome, Watch Awesome, You Are Awesome!!!
Rich Shumaker